The two-acre Ben Ficklin Cemetery located on the southern outskirts of San Angelo, Texas was not the town's first graveyard. Ben Ficklin's original cemetery was located along the South Concho riverbank. With heavy summer rains, the South Concho River left her banks in August 1882 and flooded the cemetery. Several coffins were dislodged by the floodwater. Higher ground was sought for reinterments.
Mary Jane Metcalfe, along with her 16-year-old daughter, Zemula, were drowning victims when the swollen South Concho River reached its highest point on August 24, 1882. Mary Jane's older children, Charles Metcalfe and Fannie Spence buried their mother and sister on the highest point in the area, the present-day Ben Ficklin Cemetery. Along with one other flood victim, Blake Taylor, there were also four reinterments from the original cemetery.

After the flood, the Metcalfe and Spence families allowed other interments in the cemetery for friends and for those in the area who could not afford burial elsewhere. Many burials were made during the Great Depression. The most recent burial was in 2012. No one was ever charged for a burial plot.
The cemetery has been family-owned by Charles Metcalfe and Fannie Spence or their descendants since 1882. The Metcalfe-Spence family donated the cemetery in 2020 to the Metcalfe-Spence Cemetery Historical Preservation Foundation, a non-profit organization.
Under the ownership of the Metcalfe-Spence Cemetery Historical Preservation Foundation, other than for a few plots that were deeded prior to the Foundation's ownership, future burials will not be allowed.
Ben Ficklin Cemetery is recognized by the Texas Historical Commission as a Historic Texas Cemetery.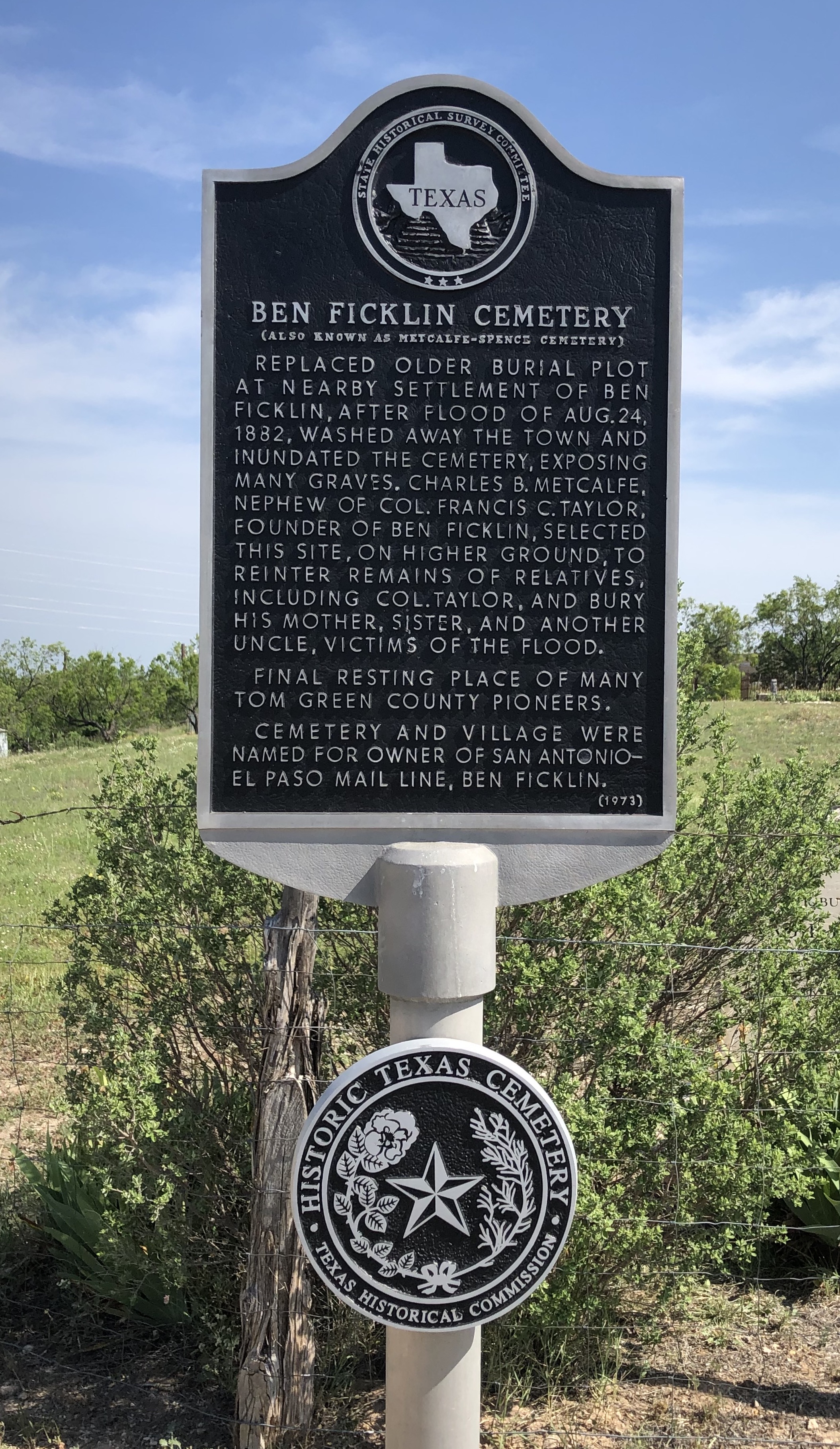 There are around 136 graves at the cemetery. Because burial records were not maintained, the exact number of graves is unknown. A list of 118 names has been compiled for people buried here. Forty-Four of the names have been identified to specific graves. Included among those buried at the cemetery are Francis Taylor, the father of Tom Green County, his wife, Ester Taylor, James Spears, once sheriff of Tom Green County, and three victims of the 1882 flood: Mary Jane Metcalfe, Zemula Metcalfe, and Blake Taylor.
Below is the list of known persons buried at the Ben Ficklin Cemetery. If you have any information about people on this list or know of others buried at the cemetery who are not on the list, please contact the Foundation at [email protected]
| | | | |
| --- | --- | --- | --- |
| Last Name | First Name | DOB | DOD |
| Acervedo | Manuel | unknown | 8/20/1924 |
| Aldrette | Manuel K, Jr. | 1/19/1920 | 5/6/1920 |
| Alerete | A. | 1/1/1898 | 11/28/1917 |
| Allsop | Infant son of John | 1/1/1906 | 8/14/1907 |
| Alsup | Johnnie | 0/0/1884 | 0/0/1905 |
| Blum | Billie Melvin | 8/27/1942 | 11/8/1942 |
| Budd | Walter | unknown | 7/8/1905 |
| DeHoyos | Juano | 1835 | 8/24/1915 |
| DeHoyos | Porfirio | unknown | 3/6/1921 |
| Delentio | | unknown | unknown |
| Easery | Infant of Julia Ellen | 4/6/1928 | 4/6/1928 |
| Easery | Julia Ellen | 12/4/1899 | 4/5/1928 |
| Farmer | Clyde Eugene | 4/7/1913 | 4/20/1923 |
| Foster | Infant of Wm & Lizzie | 1/1/1908 | 1/1/1908 |
| Fuson | Kathleen H. Emerson | 10/3/1960 | 5/19/2011 |
| Garcia | Concepcion | unknown | 2/6/1924 |
| Glasgow | Lillie May | 10/5/1910 | 10/11/1910 |
| Glover | Lillie | unknown | 4/25/1917 |
| Gonzales | Julian | 12/31/1899 | 8/21/1926 |
| Goss | Mattie | 6/17/1875 | 6/27/1908 |
| Goss | Infant daughter of Mattie | 3/1/1907 | 7/10/1907 |
| Havrick | Martin Lord | 1/1/1862 | 3/15/1938 |
| Havtis | Civiaco | 1/1/1919 | 5/5/1921 |
| Herring | Alexander F. | 11/21/1841 | 6/28/1893 |
| Hoyas | Bernedios | 1/1/1873 | 10/6/1933 |
| Jackson | John Wesley | 9/10/1922 | 2/10/1923 |
| Lawler | Infant of Arthue Lee | 6/3/1920 | 7/17/1920 |
| Lawler | Lawrence Teague | 6/10/1905 | 7/5/1905 |
| Lawler | Iris May | 5/27/1933 | 2/24/1934 |
| Lawler | J. L. "Rocky" | 8/16/1938 | 9/11/1938 |
| Lawler | John Wilburn | 9/27/1867 | 8/17/1937 |
| Lawler | Sallie Dena | 12/3/1935 | 1/18/1942 |
| Lawler | Silas Joab | 1/10/1904 | 4/10/1904 |
| Lawler | Walter Marion | 7/6/1909 | 11/3/1918 |
| Leonerada | Leonerada | unknown | unknown |
| Lopez | Genaro Luna | 0/0/1918 | 4/22/1954 |
| Lopez | Jesus | unknown | 11/11/1918 |
| Lopez | Martinez Marcilina | unknown | 11/5/1918 |
| Luna | Bedarda | 5/4/1920 | 4/20/1921 |
| McDonald | Charles Robert | 10/10/1898 | 6/3/1976 |
| McDonald | Charles Roy | 10/11/1925 | 1/3/2009 |
| McDonald | Connie Logan | 2/11/1930 | 9/18/2004 |
| McDonald | Pearl "Texas" | 11/21/1902 | 10/11/1993 |
| McDonald | Ruby | 4/12/1938 | 9/14/2022 |
| McDonald | Stephen Patrick | 7/18/1958 | 6/6/2003 |
| Metcalfe | Charles Clinton | 11/1/1886 | 3/1/1905 |
| Metcalfe | Mary Jane | 4/27/1826 | 8/24/1882 |
| Metcalfe | Zemula L. | 7/15/1866 | 8/24/1882 |
| O'Doherty | A | unknown | unknown |
| Orona | Augustine | 6/25/1925 | 9/3/1925 |
| Orona | Jose | unknown | 3/5/1920 |
| Orona | Romona | 2/28/1920 | 3/10/1920 |
| Payne | David Ray | 3/13/1949 | 8/24/1999 |
| Payne | Charlene McDonald | 8/24/1954 | 2/12/2012 |
| Penna | Franscisco | unknown | 8/26/1918 |
| Pollock | | unknown | unknown |
| Quefalle | | unknown | unknown |
| Rocha | Elutario | unknown | 7/20/1894 |
| Rodriquez | Amebia | 5/31/1936 | 5/12/1937 |
| Rodriquez | Marina | 12/14/1919 | 7/12/1937 |
| Rodriquez | Infant of Jesus | 11/17/1937 | 11/17/1937 |
| Short | Hettie | 2/2/1826 | 11/30/1908 |
| Short | Jda | 12/3/1873 | 4/4/1893 |
| Short | J.W. | 2/8/1842 | 2/8/1890 |
| Short | William B. | 10/21/1867 | 3/29/1890 |
| Smith | Harold Glenn | 11/18/1964 | 12/18/1996 |
| Spears | James D. | unknown | 8/12/1893 |
| Spears | Zemula W. | 5/27/1838 | 4/19/1877 |
| Spence | Child of Joseph and Fannie | Unknown | Unknown |
| Spence | Child of Joseph and Fannie | Unknown | Unknown |
| Spence | Child of Joseph and Fannie | Unknown | Unknown |
| Stewart | Arthur | 3/14/1873 | 1/12/1918 |
| Stewart | Kennedy | 0/0/1881 | 0/0/1908 |
| Stewart | Lee | 2/11/1890 | 2/1/1944 |
| Stewart | Lee Arlington (L A) | 9/23/1877 | 2/19/1943 |
| Stewart | Leonard | 11/26/1915 | 9/9/1938 |
| Stewart | Mary Jane (Molly) | 10/15/1866 | 3/21/1936 |
| Stewart | Orrytis | 7/23/1880 | 9/22/1938 |
| Stewart | Samuel Kimball | 10/15/1848 | 1/30/1917 |
| Stewart | Ted | 4/22/1928 | 7/6/1948 |
| Stewart | Raymond Daniel | 3/30/1942 | 10/1/1942 |
| Stewart | Carrie Winans | unknown | 1/29/1917 |
| Taylor | Ester Ann | 2/28/1822 | 5/15/1879 |
| Taylor | Francis Corbett | 11/24/1822 | 6/4/1879 |
| Taylor | James Blakley | 7/31/1824 | 8/24/1882 |
| Taylor | Moses H. | 12/14/1870 | 1/31/1908 |
| Thorp | Hubbard | unknown | 6/7/1924 |
| Thompson | Hubert | 11/29/1940 | 11/29/1940 |
| Tollet | Lottie | 0/0/1910 | 0/0/1910 |
| Tollet | Emma | 4/11/1881 | 4/7/1923 |
| Tollet | Thelma | 5/13/1907 | 6/13/1907 |
| Torrez | Aurora | unknown | 2/9/1920 |
| Trevino | Hosea | unknown | 7/26/1919 |
| Ulines | Joe | unknown | 11/4/1911 |
| Ulmer | Bobby Joe | 11/5/1936 | 11/5/1936 |
| Urias | Victoriana | 9/28/1937 | 9/28/1937 |
| Vancourt | Alexnader | 2/27/1812 | 2/19/1881 |
| Velmer | Bobby Joe | 11/5/1936 | 11/5/1936 |
| Watkins | Mary | 2/4/1849 | 10/30/1933 |
| Watson | Alice Lelia | 3/19/1901 | 4/13/1912 |
| Watson | Ava Lee | 2/14/1925 | 6/12/1927 |
| Watson | Infant of Charles | unknown | 5/29/1916 |
| Watson | Carroll | 4/7/1910 | 4/11/1912 |
| Watson | Edwin Jacob | 2/4/1904 | 4/15/1912 |
| Watson | John Henry | 7/8/1886 | 12/31/1915 |
| Watson | Jessie Thomas | 1/22/1908 | 3/31/1908 |
| Watson | Julia Elenor Manning | 10/27/1846 | 1/7/1936 |
| Watson | Luther Alvin | 3/31/1913 | 1/8/1938 |
| Watson | Martha Jo | 7/11/1936 | 7/11/1936 |
| Watson | Nena Beatrice | 8/27/1910 | 7/15/1911 |
| Watson | Rufus Riley | 12/30/1883 | 8/14/1912 |
| Watson | Thomas Leon | 10/18/1942 | 10/29/1942 |
| Watson | Tom Levi | 4/26/1889 | 1/9/1944 |
| Watson | William Marion | 7/26/1844 | 2/24/1916 |
| Wilson | D. M. | 1/18/1899 | 12/5/1932 |
| Williams | Fannie Baker | 01/01/1866 | 5/6/1899 |
| Williams | Daughter | 05/01/1894 | 05/01/1899 |
| Winans | Charlsie Stewart | 12/29/1884 | 3/9/1941 |
| Winans | Henry | 6/1/1846 | 7/22/1925 |
| Zapata | Rosita | 8/25/1923 | 11/2/1924 |