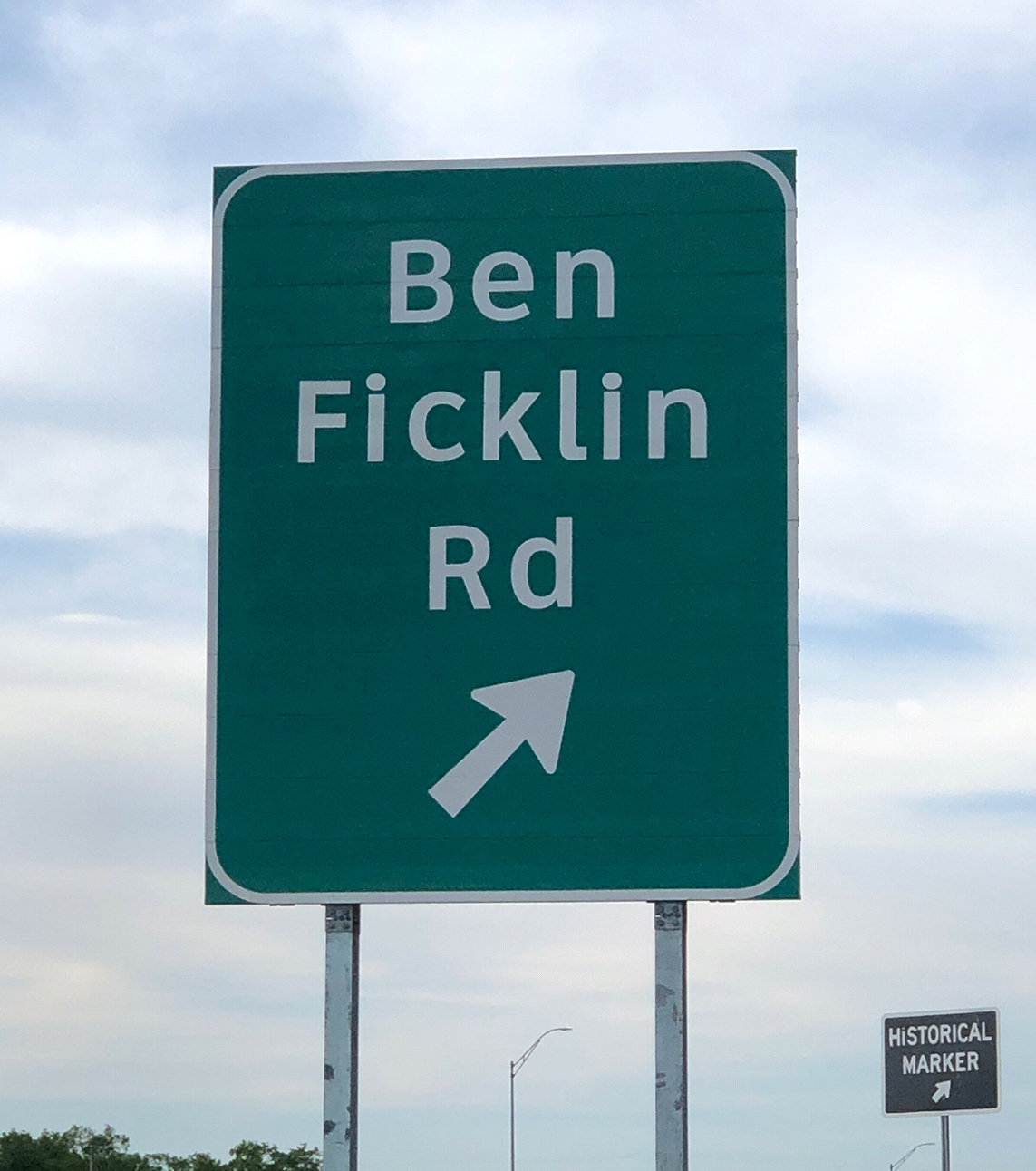 Benjamin Ficklin purchased 640 acres of South Concho riverfront land along the San Antonio - El Paso mail route which he managed. When Benjamin died in 1871, the land was left to his good friend, Francis Taylor. In 1873, Taylor, along with William Kelly and Charles Metcalfe, laid out a townsite on the land once owned by Benjamin. To honor his friend, Taylor named the town Benficklin. The spelling as one word proved to be difficult for area people to accept or remember and, ultimately, Taylor relented to the town's name being Ben Ficklin.


The approximate townsite of Ben Ficklin along the east bank of the South Concho River is depicted by the black lines. The area shaded in orange is the approximate site of the town square, the location of the first Tom Green County Courthouse.

When Tom Green County was organized in 1874, Ben Ficklin became its county seat. A temporary courthouse was established in an adobe building. In February, 1882 , a permanent two story stone courthouse was completed. The town grew to around 600 people before tragedy struck in August, 1882 when flood waters ravaged the riverside town. Many of its residents were killed and all but a few buildings were washed away. The newly opened courthouse, though still standing, was ruined.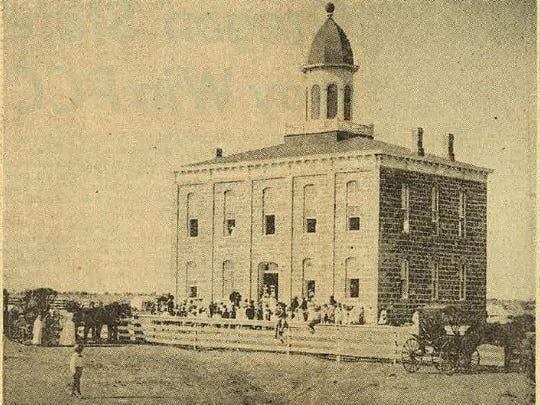 The Tom Green County Courthouse at Ben Ficklin completed in February, 1882.
Ben Ficklin never recovered from the flood. Survivors moved to nearby communities, among them Sherwood and San Angela. In 1883 the county seat was moved to San Angela.
The courthouse at Ben Ficklin was subsequently dismantled, stone by stone, and rebuilt to serve as a school in San Angelo.

The Ben Ficklin courthouse was dismantled and re-built as a high school at 100 Magdalen Street, San Angelo. Image courtesy, West Texas Collection, Angelo State University.
Now just a ghost town, traces of the one-time county seat can still be found. In San Angelo, Ben Ficklin Road runs from Avenue N just east of US Highway 87 southward toward San Angelo Country Club terminating at Country Club Road. Also, near the intersection of US Highway 87 South and Loop 306, is Ben Ficklin Cemetery.